Earlier before we left for Bangkok, we kinda already had an itinerary of what to do at Bangkok. And the plan today was today go for massage, wait for the rest of the team to arrive and head to Chocolate Ville. As we were running kinda late, we ended up finishing our massage late and it started drizzling. So, we told the rest that we will not be going to Chocolate Ville as planned. However, on the way heading out of the massage area, the rained cleared and our Thai friend decided to just drive us there instead without us knowing. So we kinda pretty much ditched the rest of the guys because we told them plan cancelled.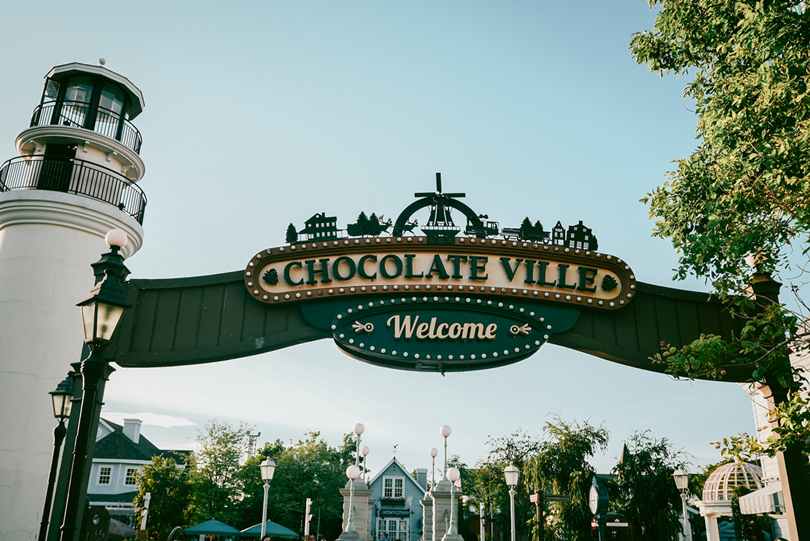 I actually thought Chocolate Ville would have been a perfect place for me – a land filled with chocolate and happiness but I ended up kinda disappointed as Chocolate Ville in Bangkok has no chocolates in it whatsoever. However, the view was pretty awesome as the rain had just ended.
Chocolate Ville themed itself like a small American countryside village from the days of the past, complete with colourful facades and a small stream that links both sides together. It's a pretty looking place; and maybe one of the better place to date in Bangkok. It was like I was in another land altogether, nothing Thai; the buildings, gardens, bridges and lake was super fancy. So, it was near Halloween when we visit – so most of the things were themed to scare. It was an incredible spacious land.
I quite like the fact that they actually update the design of the area very consistently according to the festivities, etc.
And my suggestion is not to simply open the doors there during Halloween-themed. It's pretty scary. So, Sher Leen cleverly told us to walk almost into the lake when we opened this door; had a good laugh but thankfully no one fell in.
And on the left, is the way up to the viewing deck where you can see the entire area. Check out the awesome view from the top.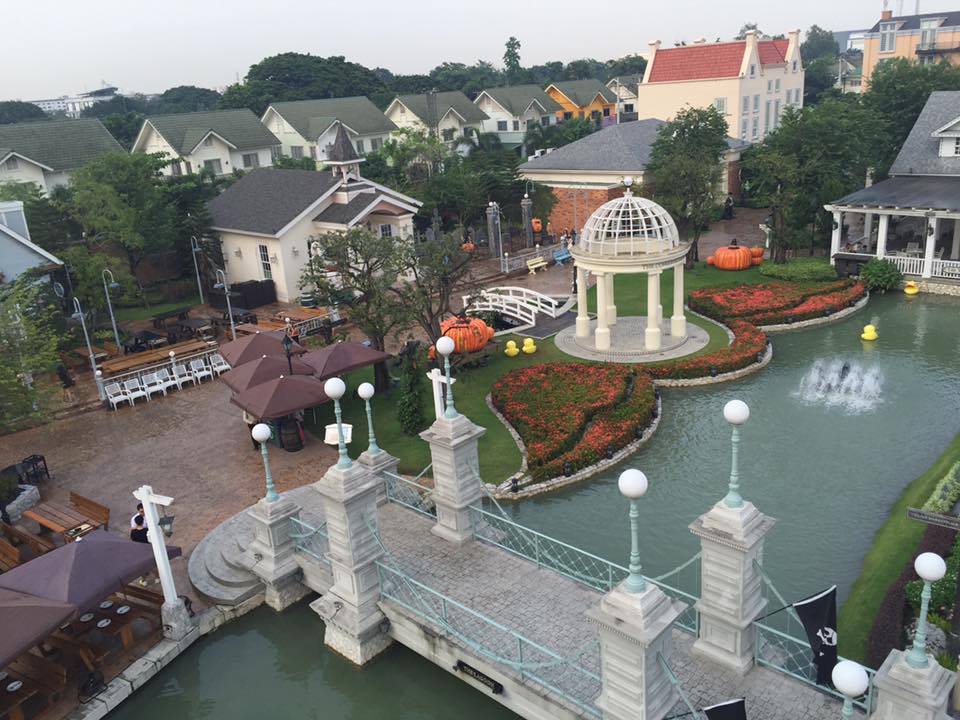 Pretty spacious, ain't it? It was quite empty the time we went only because it opens in the evening at 4pm – that was exactly the time we got there and it was again, drizzling. When we looked up, the sky looks pretty awesome too.
They have also got a huge dining area which could potentially sit up to about 500 I read. Looks like a solid hangout place for couples and friends aye?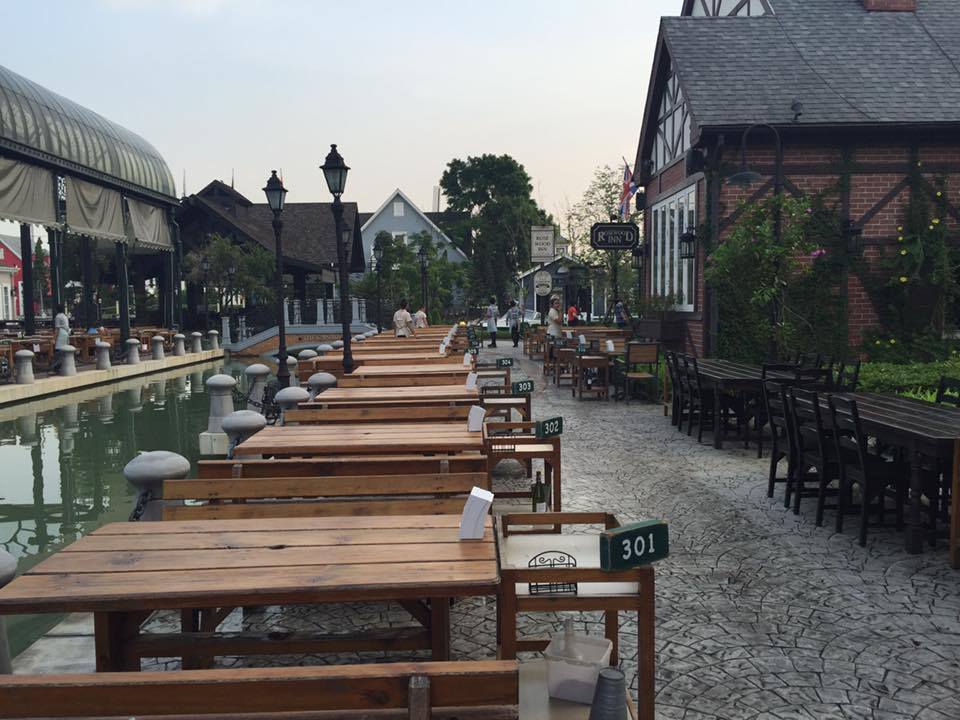 We kinda regretted we didn't eat there, though we wanted to. We went for some quick McDonalds Thailand pork burgers instead which was quite yummy too. But we read that they serve Thai food at Chocolate Ville (the only Thai thing there, probably) with some chocolates as desserts. We did ordered some fried mini-doughnuts though. Was not too bad too!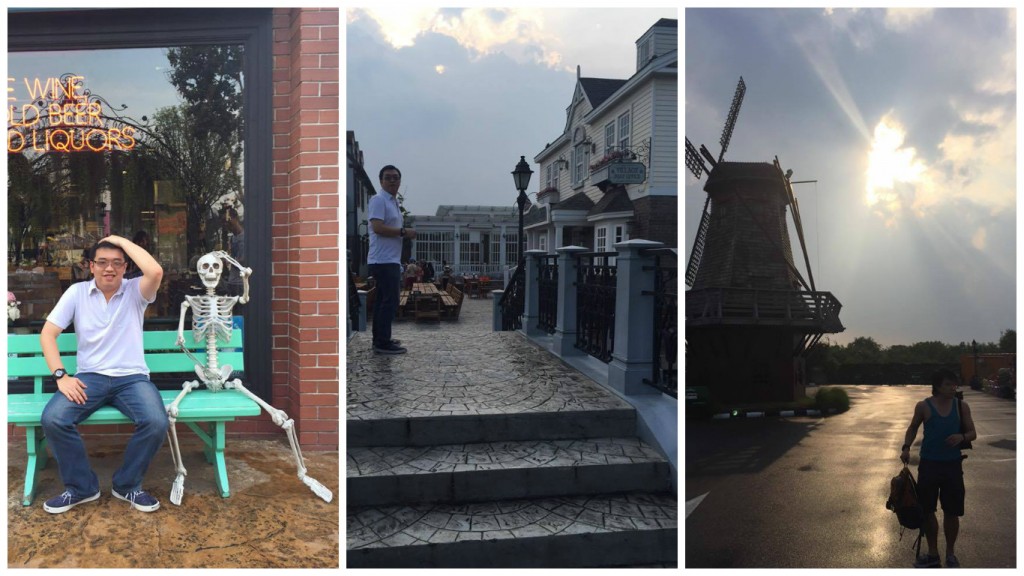 If you're looking to get there, check out this map below which might be helpful.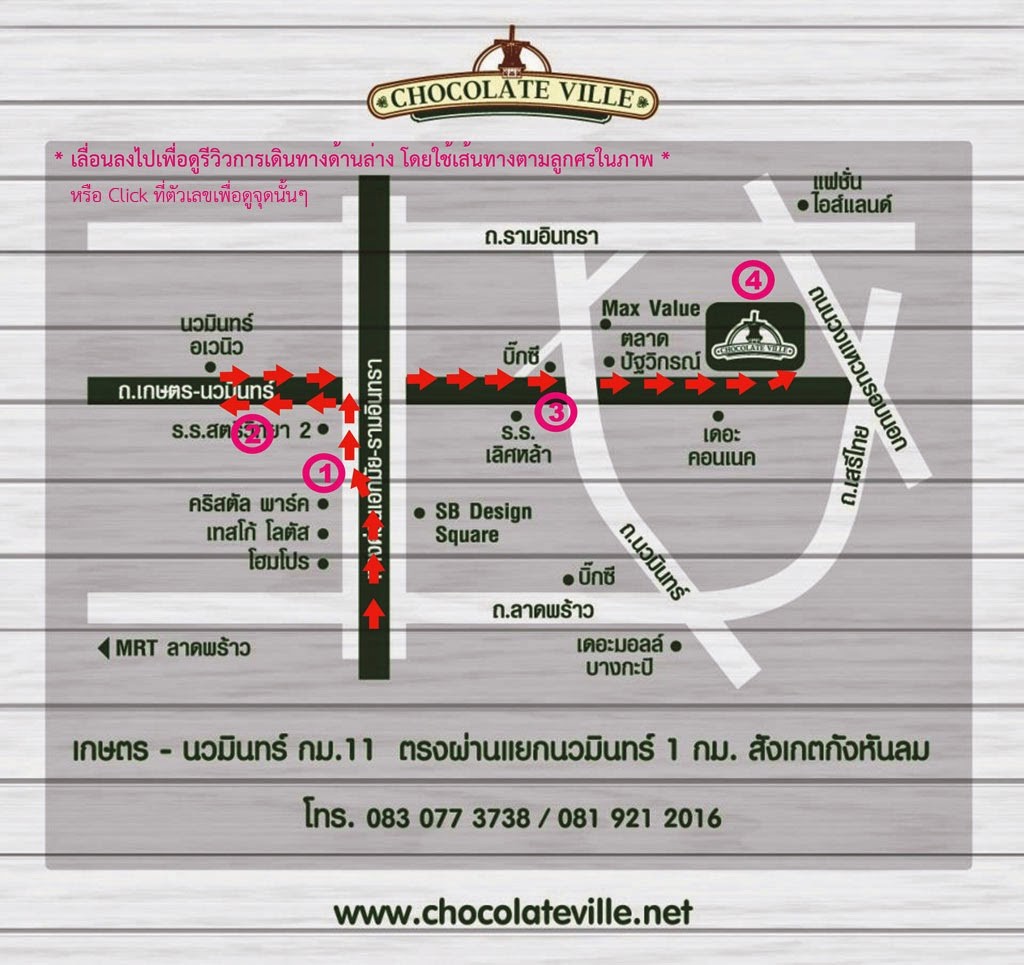 Just a quick word of advice, I read that you should avoid going too late as there are not many taxis around the area at night. The taxi drivers won't try to throw you unbelievable figures just to get you out of that area. There are no BTS or trains available too as well.
Chocolate Ville
351, Khan Na Yao, Krung Thep Maha,
Nakhon 10230, Thailand
Opening Time: Everyday, 4pm till late
Email: info@chocolateville.net