WHO THINKS ALVIN KOK IS A SUPER GOOD BOY?
Everyone right? =P
Okay, for once, I am perasan.
Wanna know why?
Just look at this… This is ruining my whole image NOW.
This person's MSN has been spamming me with asking if I wanna view my own naked picture, my own cam pictures, my caught-in-the-act pictures. I just think some sickening thing is happening to this person's MSN. And it's really frightening if a kid who uses MSN gets this. Can you imagine?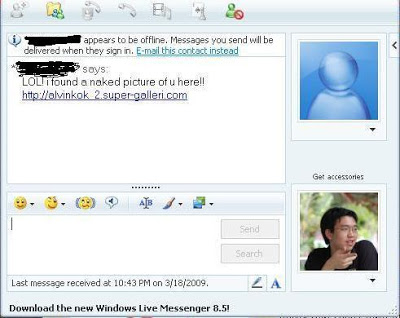 A naked picture of me? She captured it somewhere? OMG. I am such a 'good good' boy. And I am not involve in any politics. Why does this person wanna take my naked picture? 😛
Now I start to feel what the politician went through when she first got the news. Haha.
On another side, I start to think and I am gonna screw next weeks finals! My classmates, say 'YA!'. I've not studied. Not a bit. Perhaps, NOT AT ALL. How I am gonna fare? I got no idea. I gotta stop my mind from saying, it's gonna be like the last two semesters. Hell no. It is not gonna be. The Computing IT and Perspectives in Technology paper is enough to kick me upside down.
In addition, I've been staying home, Facebook-ing, MSN-ing, Sleep-ing, Eat-ing. All the -ings you can think off. Except Study-ing. I've been downloading a lot as well. Killing my own computer. At every night, almost: I've just been going out for dinner and just going out to hang loose with Voucher. His new name.

And Lee Jun Lin, you planning to get me a new phone? I don't mind. You're a great friend, I know!
And someone just reminded me of the foolish thing I've done in college just recently. Stucking a smaller sized memory card into a huge hole; where the width of the huge hole is the height of my micro memory card. Cause it to stuck in there. Urgh. The stupidest thing I've ever done in my life. How often you see alvin this stupid right?
And Alvin is dying to earn some cash through blogging. You know what to do? Ads? Hmm. Opps! I am getting broke.
Remember, my gadgets are all KO-ed?
And I think life is complicated. Because WE made it complicated. Perhaps, if just one person makes it complicated, it's worst enough. Don't you agree with me? Everything's simple. but humans made it complicated. Just take a look:
Science. Who on earth came up with Bio, Physics and Chemistry?
Pure Science. Again. Who came up with Applied Science? (Perspectives in Technology, 2009)
Money. Who came up with corruption?
Love. Who came up with hate?
Ironic isn't it? We complain and complain about how our life suck but we never realise we were the one that made it happened. But human nature I suppose, we want to attempt. We want to try. We want to explore. Or else, there's no life right? Yes, Justifying the point again. I am just good at justifying things.
And a WARNING: Do not play with my feelings. It is like playing with fire. Trust me. Feelings can probably tear someone down so much that he/she might not even get back up. And I've been through that and I dont want to go through that. You know how much it hurts. When the fire is lit up, there's no turning back.
Are there any topics anyone wants me to blog about? Ideas?
Maybe I should be doing food, blogs or movies review soon. But let's see if I got the time.
Oh. This made me remember. I called back Starbucks Malaysia Human Resource Manager today – to get back my job. I guess I'll be back in Starbucks in less than a week. And most likely, with someone too.

Let's pray everything goes well. I need the cash. I want the fun times in Starbucks. I want a better outlet too. I am demanding. I know. But I am grateful having an uncle whom I can just use his big name to secure that job. Okay. Don't judge me. I applied for almost 10jobs for the 3 weeks duration and all replies that came back was – we will get back to you once we have any news or if you are shortlisted. I have a week to go. I don't even want to stay home the moment I finish exams. I guess it's recession. Hard to find jobs. So, I am not spoilt alriggghttt? :S