A lil personal post:I've not done blog review for ages. Let's hope I get to write something.
I am not at all jealous. Not a single bit. It's not who writes first. It's who writes what. That is more important. =P
Introducing: www.mirmanror.wordpress.com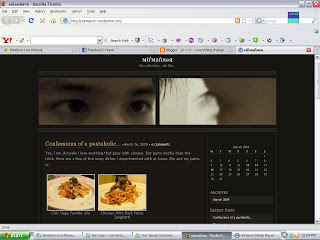 The blog of Ong Ben Leon.
I don't know who and what influenced him to have a blog. Everyone is giving me that same face, expressions, looks – WHAT? HE HAS A BLOG?
Okay. I didnt mean anything bad. But it's a good thing that he has a blog. Time to stalk him – I meant well. =P and maybe if he continues to update it when he is in Singapore. =)
Good start for him. Especially people like HIM!
You guys know I rarely (not a single bit, these days) promotes new blogs. But he being someone important in my life, I better just promote lah. Since he said his friend promoted and i should be JEALOUS! I am not. Definitely NOT. I wrote way longer and I am sure you appreciate a post all by yourself for you. Hahaha.
His blog now basically covers all about food, for now. I have yet to see anything about his life or any sort of other categories. Bear in mind, he loves food. Remember the food post I posted? The Bro who cooks for me? Yeah, this Man in the Mirror thingy is his very own blog. But that doesnt mean I am not gonna post up blogs about his pastas and food anymore. I will. When I get the pics *hint hint*
He has cooked for me, to date. I think 3 plates and 1 pot of pasta. The pot was obviously not for me. I don't eat that much. Haha. But it's nice. I used to only eat the basic Speghetti but no longer, after he cooks. Heh
And he, as usual: Arrogant =P. He is just bangga-ing that his blog has 143hits since few days ago. It is considered a lot for a newbie like him. =P. Okay. I told him I was jealous about this. So, whoever visits his blog must visit mine first. I only have close to 8XXX visitors for the past one and the half year. And it has been decreasing lately.
Look at the screenshot below: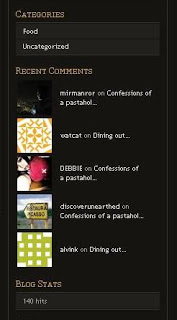 Yeah. So tell me about his blog on my tagbox. Feel free to kutuk. =P Opps. Kidding.